Birthdays are all about giving back
In my last blog post – if you can even call it that – I mentioned that I would write about certain topics whenever something moved me or meant a lot to me. Well right now I have two burning issues. Note how I am writing in English this time… I guess when topics are really important to me I turn back to mother-tongue!
The first issue: Birthday time
My fourth baby, D'n.a.d.A is celebrating its first birthday on May 15! Goodness how time flies. Yes, it's already a year ago that we went online for the first time. In this year we have learned a lot, gotten to know so many new people and most importantly it has taught us how lucky we are.
My girls talk about D'n.a.d.A with such pride - in fact they are the perfect little marketers. Already saying how they want to take over (the empire) one day. Little a. sees herself on the marketing & sales side, whilst little n. is more on the purchasing side… perfect match if you ask me. Now we'll just have to wait for little d. to take over the technical & financial side (what a cliché). Then big D' (that's me) and big A can retire!
It just makes us so extremely happy to see that we are raising our children to be happy, self-confident young adults with perspective…or at least that's where we hope for them to end up one day!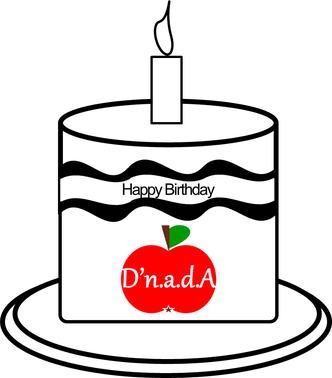 On the other hand, this being so lucky and feeling so incredibly blessed also brings me to my second and much more important issue.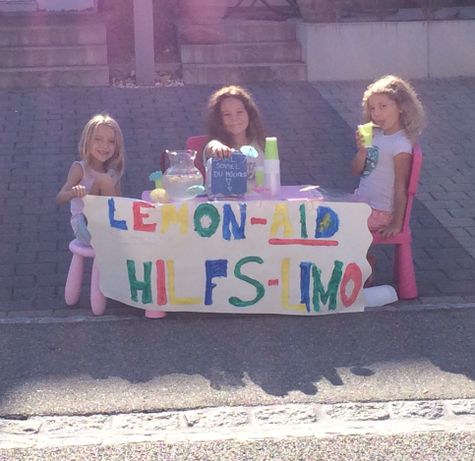 The second issue: Giving Back
This is a something very dear to D'n.a.d.A's heart. We as a family and now also as a little business, have spoken a lot about the topic. In fact we have already tried to do some good in the past. One example was when we sold "lemon-aid" on the weekend and donated the money for a good cause.Now we have decided to make it an annual thing. We will choose a specific topic, issue or project once a year, around D'n.a.d.A's birthday and find a way to help out and support it.
This first time around it will be: Syrian war children.
Of course our kids often see the news with us and a lot of explaining then needs to happen. But how can one even begin to explain this kind of brutality? Anyway the result of our attempt to explain, is always the same: "Mama, we need to help!"
I cannot even start to tell you how sick I am of seeing children covered from top to bottom in dust and rubble because they have been in the middle of a bomb attack. Children bleeding. Children who have lost their limbs. Children starving because much needed help cannot reach them. Children left behind, because the rest of their family did not survive yet another pointless bomb attack. Mothers desperately clutching onto their dead babies. Children on the run - running goodness knows where - and let's not even talk about what they encounter on the way. Children traumatized by -what is for them- their "normal" surroundings. Children being treated in gas attacks... if they survive at all. Now one of the most horrible  things I have seen in a long time and there are more than enough terrible things happening on planet Earth these days which I haven't listed here.
A little boy, 7 years old, found by an Iraqi Soldier with a self-built bomb wrapped around his tummy - to be ignited by a mobile device.
Seriously? How gruesome is that?  Little n. is seven years old right now. I look at her and all my children. They are healthy. They are loved. They are happy. They have a safe home. They have at least three meals a day. They have medical care. They are getting an education. They have a future!
Whilst not so far away from us, a lost generation is growing up.
Doesn't every child deserve to be protected? Deserve a future?
We think so! But how can we help? Well, let me be entirely honest. Being hands-on is very difficult in this specific case. I cannot personally travel to Syria and help individual children or families. It would be like a drop in the ocean. I don't have the education (if that's even a valid excuse), I don't have the stamina, the idea of being in a war scenario scares me and most importantly, I feel like I have too much to lose. So the best way is to support a relief organization working directly in the hot spot. They have the most experience and know where help is really needed. But which one should one support?
I have done quite a bit of research (from my safe desk!) to find a relief organization that we feel should be supported. It was important to me that the organization is politically and religiously neutral, that it is actually on-site in Aleppo or Damascus or wherever help is needed in the area and that it isn't just food and hygiene products they deliver, but that they also support psychologically and provide some kind of daily routine, in the best case this includes schooling for the kids.
We have come to the conclusion that UNICEF best covers all these points and have decided to support them. They are the only relief organization with as many as 200 employees in the region currently, risking their lives on a daily basis to make life for locals a little more tolerable. Check out their website for more details and also how you can help: UNICEF
So now comes the combination bit. It is Birthday time soon and we so want to support UNICEF.
The Birthday / Peace Tee
For the special occasion we have designed a tee for all. Meaning it is unisex, starting at size 3-6 months and going all the way up to an adult XXL. So you can wear it with your kids, because twinning is winning! On the front is one of the most important messages of our time, which is PEACE NOW! But also on the back there is a peace dove… so it's really peace all around!
Now the support part: CHF 5 of each shirt sold will go to UNICEF.
We hope you love our Birthday/Peace shirt and want to thank you now already for supporting the cause.
Even if you don't support the cause by buying our shirts, just take a look around you and see how great you have it. Maybe you can find your own way of giving back and create more awareness.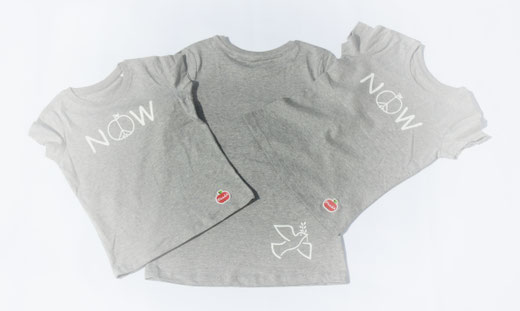 Spread the love!
xoxo - Des